Steatite Ceramic usuallly called C221 High frequancy ceramic, which is a low cost material with high electrical resistance at high temperatures, good mechanical strength and a very low dielectric loss factor. Such properties make it ideal for high frequency, low loss, and high voltage insulation. Steatite has been used for many years in large-scale industrial systems, household electronic appliances, aerospace and automotive applications, and specialized eletro-technical instruments such as cathode-ray tubes.
Applications : (1) Ceramic Band Heater Insulator; (2) Heating element holders; (3) Stand off Insulators;(4) Interlocking Insulating Beads; (5) Split bush insulators;(6) Lamp bases and caps; (7) Regulator parts
Shengda Ceramic provide all kinds of steatite ceramic tubes. Also the rings, rods, tubes, plates, inserts, bushing, sleeves, blocks, plunger and so on. Any dimension requirement, please contact us.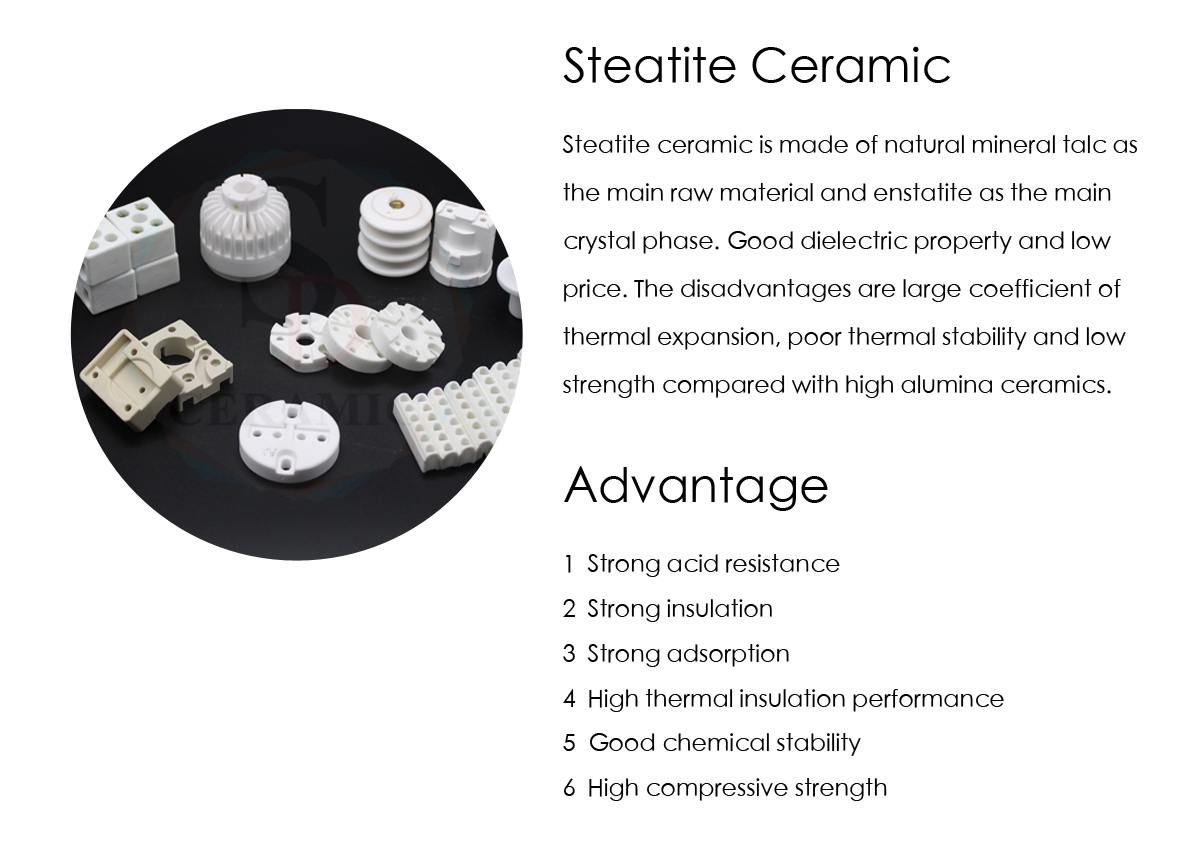 Technical Parameters
Performance

Item

Index

Unit

Steatite

95 Al2O3

99 Al2O3

Physical Characteristics

Bulk density

g/cm 3

2.7

3.6

3.6

Water absorption

%

0

0

0

Mechanical Characteristics

Flexural strength

Mpa

145

320

340

Hardness Vickers

Gpa

5.7

12.2

13.5

Elastic modulus

Gpa

120

280

320

Thermal Characteristics

Poisson's ratio

-

0.21

0.22

0.23

Expansion coefficient

10-6/℃

7.9

7.1

7.2

Thermal conductivity

w/(m . k)

2.5

16

24

Specific Heat

10-3 J/ (kg * K)

0.75

0.78

0.78

Electrical Characteristics

Dielectric constant

-

6.2

9

9.4

Dielectric loss angle

*10 -4

18

15

5

Dielectric strength

*10 6 V/m

18

12

15
Production process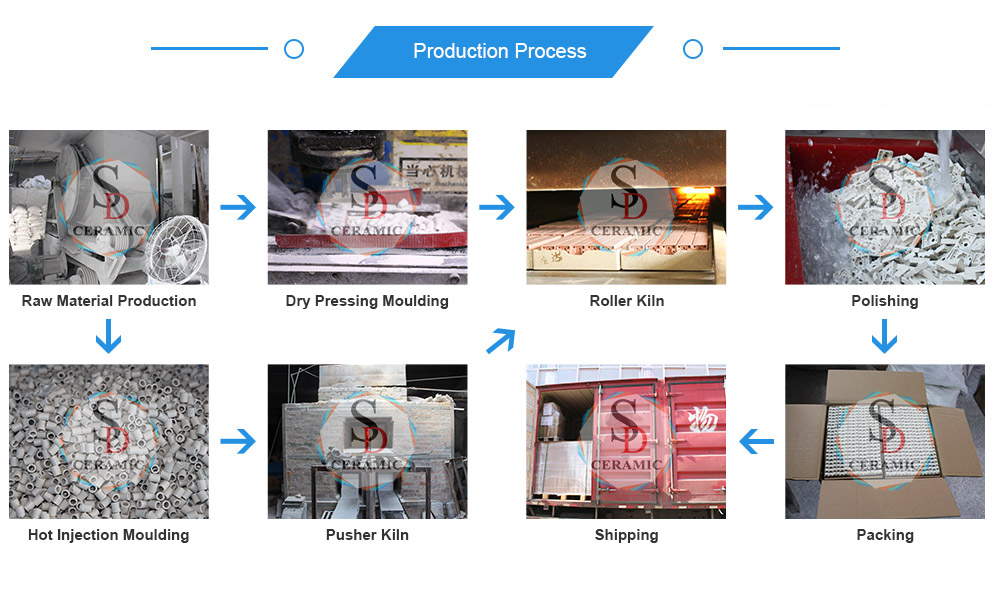 Features
1) A variety of specifications available.
2) Satisfy various technical request
3) Lower medium spoilage
4) Good insulation performance and high temperature resistance
5) High strength
6) Used in all electric products, electric heating products and wear resistant machinery parts.
7) OEM, ODM and OBM are welcomed
Production equipment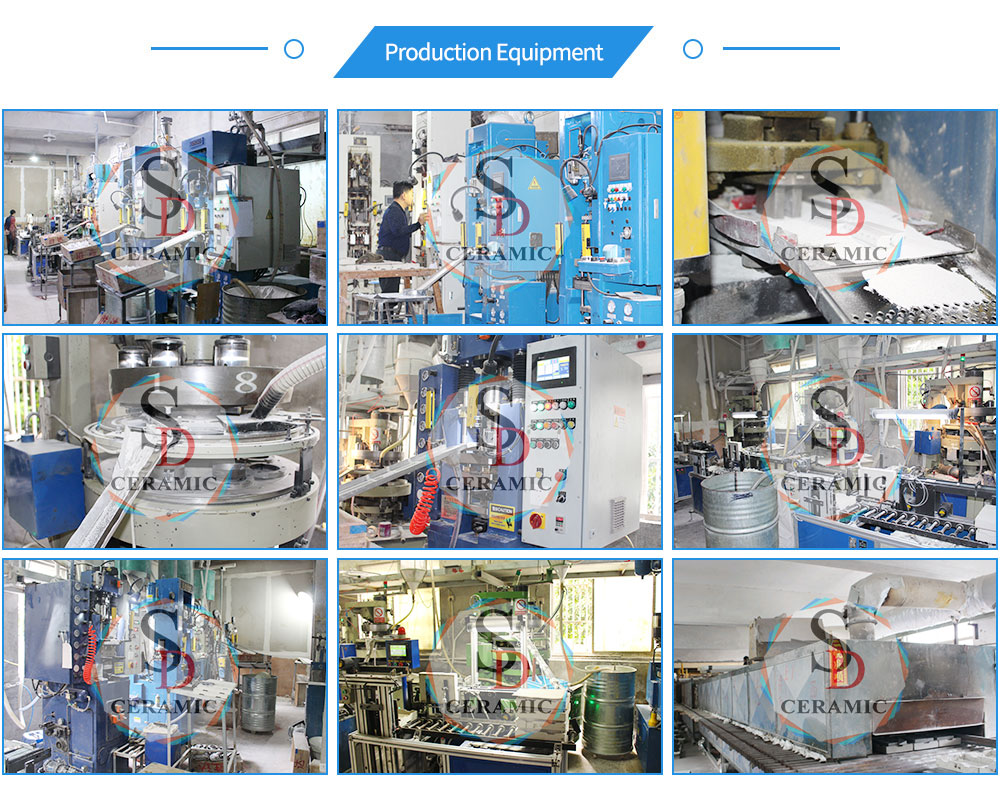 Our advantage
● Certificates: ISO & SGS
● OEM & ODM: OEM & ODM service is available
● Strict testing procedures :Meeting the requirements of the product design and process, providing reliable testing data.
● Short Delivery time:If less than 1000 pieces, it only takes around 5 days. We also stock some standard-sized products, if you need urgently, we can delivery very soon.
● Best ex-factory price
● Worldwide customers
● Customized according to needs
● Continuous research and development of new products
● Customer service:If you find some quality problem, please contact us, we'll deal with it as soon as possible.
Our certificate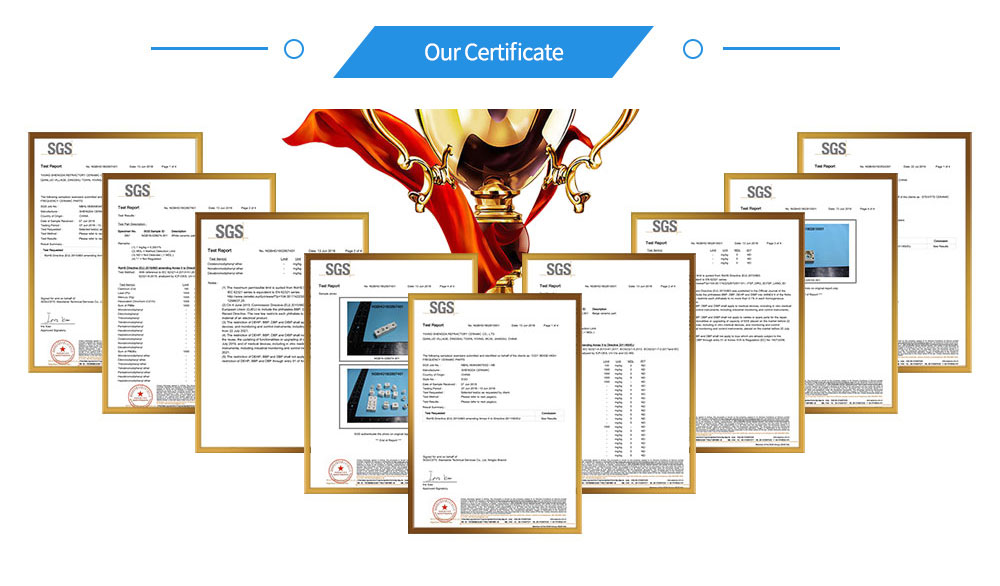 Packaging and shipping
Our customers have a wide range of processing choices for transportation mode.
● By Express (FedEx, UPS, DHL, TNT, EMS, etc...)
--- Advantage: Fast ( takes about 7 - 10 days in the delivery ), door to door
--- Disadvantage: A little expensive
● By Air Transportation
--- Advantage: Fast ( takes about 8 - 12 days ), a little cheaper than Express.
--- Disadvantage: You need to take the goods from the airport by yourself.
● By Sea ( Ocean ) Transportation
--- Advantage: Much cheaper than Express or Air transportation.
--- Disadvantage: Slow and you need to take the goods from your destination port by yourself.